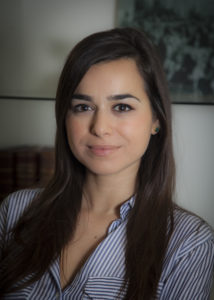 This post was written by Raquel Vazquez Llorente, who received an International Fellowship to attend the DLF Forum 2019.
Raquel is an international criminal lawyer specialised in technology and human rights investigations. As a Senior Legal Advisor to eyeWitness, she helps bridge the gap between human rights defenders on the frontlines and investigators or prosecutors, and provides strategic advice on how technology can be leveraged to facilitate justice. Raquel has worked in conflict and post-conflict environments in the Middle East, North Africa and South Asia on a range of international criminal law, security and human rights issues—mostly focusing on state abuse of power and large scale violations. Raquel holds an MSc (with Distinction) in International Strategy and Diplomacy from the London School of Economics and Political Science (LSE), and an Advanced Degree in Law and Business Administration from Universidad Carlos III de Madrid. She is a Visiting Scholar at the Human Rights Center at UC Berkeley School of Law and at the Bonavero Institute at the University of Oxford.
---
Is archiving an act of resistance?
We are generating records at an unprecedented rate. In technologically advanced societies, we are oftentimes unaware of the bytes of data our connected selves can produce without much meaningful input. We go through our lives recording steps, heartbeats, water consumption, menstrual cycles, and our thoughts and fears disguised as questions we feed to Google. However, in societies rising up against oppression and tyranny, creating certain types of records—and most importantly, preserving them for the future—is an act of resistance. Welcome to the story of a revolution, the social feed version.
My coming of age as an activist happened during the Arab Spring, and it caught me living in the Middle East. The streets were on fire, and YouTube brought the flames to our laptops. Over the last ten years, the spread of smartphones and internet connectivity has enabled not only the capturing and broadcasting of photo and video, but it has also facilitated the rise of civil society groups that are preserving digital information. Most of them hope this data will be used to seek accountability for human rights violations. Welcome to the archive of a revolution, the 21st century version.
In my work at eyeWitness I have been fighting hard with a community of pioneers to help local NGOs capture and preserve photographic and video material that can be used to bring perpetrators of human rights violations to account. While our technology has often got most of the attention, it is only the combination of tech innovation with our workflows and data sharing protocols what has allowed us to trail blaze cooperation with international bodies in search of justice.
It was precisely the need to understand better how we could refine some of our workflows what draw me to the DLF this year. I wanted to explore the world of the digital libraries and archives community, and apply their insights into the international justice field. In the DLF I found a crowd who embraced the complexities of processes for data ingestion, and tinkered with machine learning applications for tagging and cataloguing large amounts of information. We are bringing sexy back to workflows, I thought. Or maybe they were always a thing in the DLF community, and I have been missing out on all the fun.
Back in London after a fantastic week exploring with software engineers and archivists how curated digital information can contribute to society. Thank you for having me as a fellow! @CLIRDLF #DLFforum @eyewitnessorg pic.twitter.com/jfVvmECAWe

— Raquel Vazquez (@vazquezllorente) October 17, 2019
If Facebook were a country, the number of their monthly active users would surpass by 400 million the total population of the five permanent members of the United Nations Security Council. Most of the content across social media platforms is a rather dull archive of birthday parties and funny animals. Snippets of ordinary lives. But a small part of it is an extraordinary attempt at recording history. Information that is collected on the frontlines, uploaded to the internet, and preserved by civil society groups around the world must be accessible if we want it to contribute to future accountability processes. Given the sheer volume of data, there is a need to increase our capacity to structure and analyse all these records so they can be catalogued, indexed, searched and combined or integrated into other databases.
Data-silos will harm any future efforts at seeking the truth or bringing justice. How can we strengthen the impact of digital archives in transnational justice, and build the evidence locker of the 21st century? What lessons can be drawn from other digital libraries and archives, and how can technologies like machine learning and artificial intelligence help with the preservation, indexing, cataloguing and cross-referencing of information? I was excited to see at the DLF how interdisciplinary collaboration can answer some of these questions. If journalists write the first draft of history, archivists are the beholders of memory. Welcome to the resistance, the nerd version.