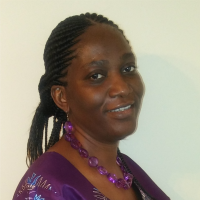 Pearl Adzei-Stonnes is Acquisitions Librarian at Virginia Union University and attended the 2017 DLF Forum as an HBCU Fellow. The award, which brought 24 fellows to the conference, was part of a collaborative effort with the HBCU Library Alliance, supported by a grant from IMLS.
The DLF/HBCU Alliance Forum 2017 has provided me with unique learning and career building opportunities that I may not have found anywhere else.  I returned from this forum with new ideas and approaches that would make me more efficient in my area of expertise. Many of the sessions I attended have been reflective and beneficial for me. One of them is the opening session by Ms Loretta Parham. She made some thought-provoking statements which made me take a moment to reflect and review my own skillset to see if I would be relevant in a few years to come.  One takeaway for me is that our society is experiencing fast-paced changes in the 21st century. In order for librarians to confidently face the future, succeed, make positive impact and expand our positions within our institutions, we need to be abreast with current and emerging technologies. We must be ready to acquire new skills, embrace new challenges, and think outside the box in order to respond to the various needs of our learning communities.
Apart from librarians honing their skills to become creative and innovative, the accreditation board of the MLS program must go through the same change as well. They cannot hold onto the same old professional standards of librarianship. The needs of our user community have changed rapidly therefore; libraries must transform to respond to the varied needs of their users. We cannot do this if we hold on to the old standards of the profession.
 The lighting talk session was awesome. It has given me confidence and experience to present in front of my peers.  As I listened to other presentations, I have acquired the know-how on varied presentation techniques which will help me to improve upon my future presentations.  The break out session on funding projects was very informative. I may not have received all that information on grant writing without the DLF/HBCU Alliance 2017 Forum.
This conference has pushed me to grow and challenge myself. By participating in different sessions, I had the opportunity to learn about new topics, a variety of viewpoints, methods and their applications. I have received many innovative ideas and trends on digitization and preservation that I intend to implement in my institution.
I have made some amazing professional connections that will potentially increase the chances of institutional partnerships and collaborations on future projects for mutual benefit to our individual institutions. Also, the serendipitous hallway conversations I had with some other attendees as we wait in line for snack have led to building new acquaintances.
I have also discovered innovative products and services through the few vendors that I spoke with at the forum. I am now confident to know where to find these resources. It was an invaluable opportunity to meet colleagues and be in a community of professionals who are so committed to excellence. I left the DLF/HBCU Alliance 2017 Forum energized and inspired to make a positive impact on my institution.