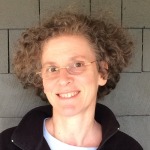 Lisa Goldberg is a Private Conservator and News Editor for the American Institute for Conservation (AIC). She attended the DLF Forum as a member of AIC, with support from a Kress+DLF Cross-Pollinator Fellowship.  
Even though some time has passed since I attended the DLF in Milwaukee, I am still feeling overwhelmed by the new perspectives, new information, and new terminology that were shared by participants.  From Stacie William's presentation on how context creates community, to Bergis Jules' inspirational talk on confronting how we care for our history, the DLF forum and Digital Preservation forum challenged me and expanded my professional horizons, and created a paradigm shift for me as a preservation professional.
The main takeaway for me is that those of us involved in the preservation of physical things (as opposed to digital objects) do not have information architecture upon which to insure that our digital legacy endures.  The DLF forum exposed me to a wealth of new viewpoints and tools that can be utilized to share, transfer and insure information exchange in ways which conservators and other preservation professionals are not necessarily comfortable in engaging. While presentations at the DLF forums clearly expressed diversity in approach and displayed continuity in the development of techniques and tools, these initiatives, research results and fully developed projects presented perspectives that museum and preservation professionals absolutely need to consider in creating and maintaining information resources.
I've already begun to bring what I learned at the DLF forums to my community of conservation and preservation professionals by opening initial discussions about creating a structure to house information objects and facilitate information exchange. Although my professional organization recently completed a survey of our "digital landscape," I hope that our next focus will concentrate on efforts to build an information architecture that can sustain the many platforms preservation professionals now regularly engage with in our inquiry, documentation, data building and research activities.
I learned so much about so many individual initiatives that it would be impossible to describe them all here. Each presentation that I attended was excellent, and the discussions among participants were engaging.  In addition, both conferences were structured and organized to foster community and capacity building among participants.