This post is one of several posts we are publishing about this year's Endangered Data Week. This contribution comes from J. Matthew Huculak, Digital Scholarship Librarian at the University of Victoria Libraries.

At the Digital Humanities Summer Institute in 2017, The University of Victoria Libraries inaugurated a newly created space called the Digital Scholarship Commons (DSC)—a place for collaborative learning, training, and resources around digital fluency. We're a fairly new space in the library, and students are still getting to know about the workshops, consultations, and training we give in the Commons. When Endangered Data Week was announced, we thought it was a great opportunity to talk with our community about data preservation and the challenges libraries and archives face in preserving data in the digital age. And to talk about how we're thinking about these challenges in the DSC. To illustrate this point, we decided to take over the main foyer of the library in order to set up an NES console on which students, faculty, staff, and the wider community could play Duck Hunt.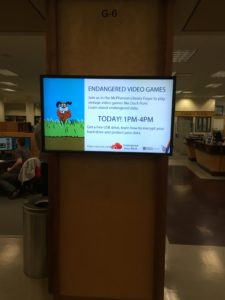 Last year, I taught to the Introduction to Digital Humanities course in the English Department at UVic, and by far, one of the most popular days in the classroom was when we came over to the library to look at the media archeology material being collected by my colleague John Durno, the Systems Librarian for UVic. John gave a lecture on media archeology, and then had students "recover" some old files with Kryoflux. We spent the class playing Mystery House in the Internet Archive's Internet Arcade, and on an Apple II from our collection. What struck me from that day's activities was how engaged students were with the hands-on activities with the older machines as well as how empowered they felt after having learned about how they might contribute to the future of digital preservation through their own data curation activities.
So, for the big event during EDW, we wanted to harness that energy of having students interact with the past in order to think about the future. We decided Duck Hunt would allow us to illustrate the following points:
We are living in a digital dark age.
In order to preserve a digital object, librarians and archivists have to maintain

The file
The software that runs the file
The hardware that runs the software to read the file
In order to play Duck Hunt on the original NES, you need to find an older Cathode Ray Tube (CRT) television since the original "light gun" is programmed to work with that technology. Second, you need to find the cartridge and gaming system to hook up to the television. Our colleague, Jen Wells, was kind enough to let us borrow her childhood system. But, in the end, we were hoping that the pure joy of playing on an old gaming system would give us a way to talk about some serious issues facing us all.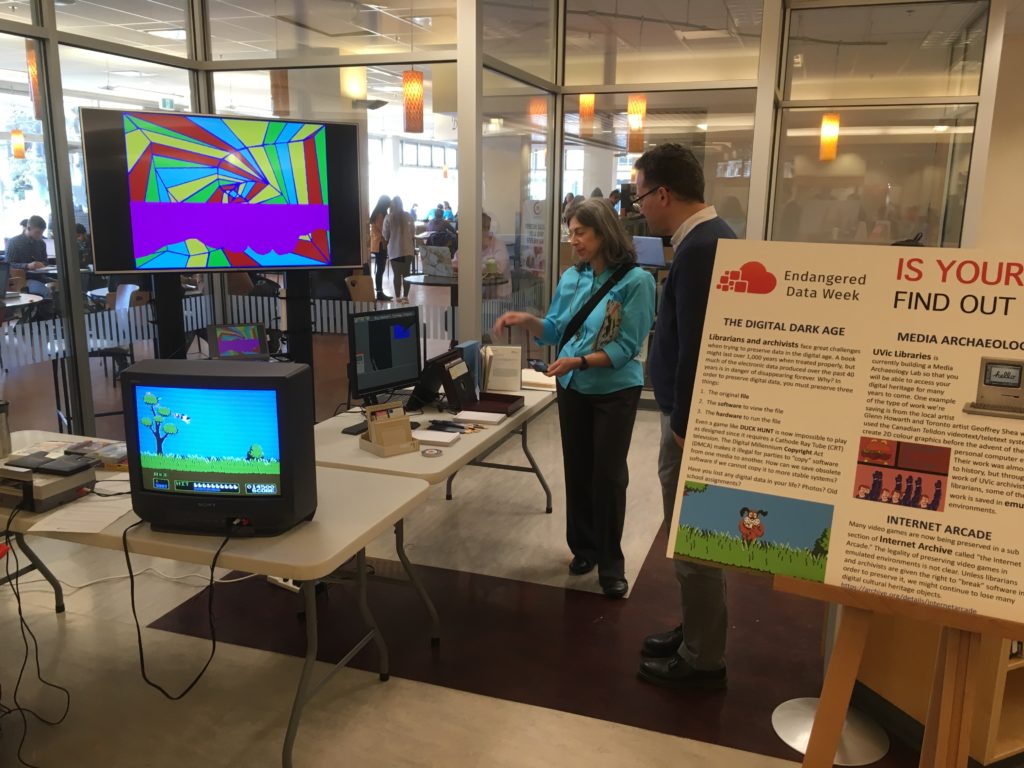 To accompany the gaming set up, we created a poster that asks, "Is Your Data Safe?" The poster talks briefly about issues of the digital dark age, the Digital Millennium Copyright Act, as well initiatives in the library to address the hardware issues some of us face. Durno has just been given the green light to open up our libraries first Media Archeology Lab that will be made available to patrons to work with software in emulated and non-emulated environments. Durno has been doing brilliant work recovering the art of Telidon videotext/teletext artists like Glenn Howarth and Geoffrey Shea, whose pioneering artwork was almost lost to the trashbin of history (Durno was literally given floppies pulled from a garbage can). John had some of this artwork playing on a large screen behind the video game station, and had a table set up to show off early computer storage—including an array of floppy disks of all sizes.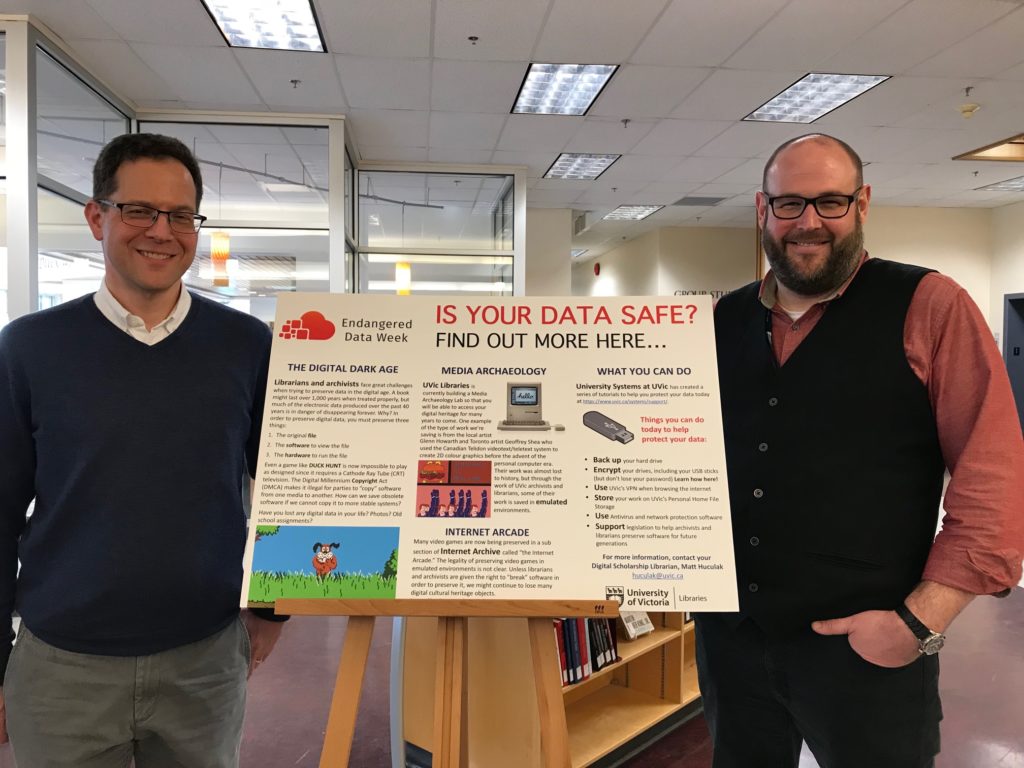 The event was a great success. Students came to play on the NES, stayed to talk about media archeology, and learned about how they could protect their own data. Ray Siemens' Electronic Textual Cultures Lab (ETCL) donated 30 USB sticks to our event so we could teach students how to encrypt their own drives (data privacy is a big concern in British Columbia), and we handed out literature produced by University Systems on how protecting one's data by backing it up on university-provided storage space.
At the end of it all, we had a wonderful day of conversations and connecting with our community about how they could support libraries and archives in preserving our shared digital futures.