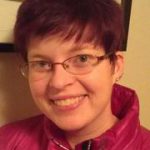 This Forum Report was provided by Angela Dresselhaus, Assistant Professor, Acquisitions and eResources, University of Montana, Missoula & a 2013 ERL+DLF Cross-Pollinator.
First off, I am grateful for the Cross-Pollinator Travel Award and I would like to thank ER&L and DLF for their generosity. While flying to Austin, a bit of trepidation started because I had not done enough homework to understand many of the acronyms and terms found in session descriptions However, the speakers at each session I attended delivered their talks in a way that eased my transition into digital library speak. Also, forum attendees were patient and gladly helped me bridge the knowledge gap between my ER&L language and DLF language. All-in-all there were only a few terms I had to Google at the end of the day.
I have long thought about the connections between the essential functions of an electronic resources librarian (ERL) and digital librarianship. One of my goals of attending the forum was to gather concrete examples of cross-pollination between an ERL and a digital initiatives librarian. I was surprised to see so many examples, but I took one central theme away from the meeting. Many people opined that the library is more than a repository and distributor of knowledge and that we should take an active role as an academic partner in research activities. ERLs place a high emphasis on simply delivering materials to patrons, this is an area where we can learn from the digital humanities discipline. Services will always be an important activity for the library, but stepping into academic research roles will further establish the library as a central component of scholarly communications on campus.
The DLF forum was a fantastic learning experience!