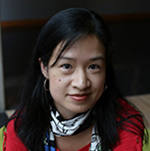 This update comes to us from Lindsay King, Associate Director for Access and Research Services in the Robert B. Haas Family Arts Library, Yale University.
The Digital Humanities Laboratory and Robert B. Haas Family Arts Library have just launched Ensemble@Yale, a project that brings crowdsourced transcription to digitized programs from archives documenting the history of theater at Yale.
In the Mark workflow shown here, the volunteer draws rectangles to identify "Actor and Role" pairs of names that another volunteer will type in the Transcribe workflow. Going beyond using OCR (optical character recognition) on the text, the Mark and Transcribe workflows help create curated and structured data to build a database of who played which role in which show–here, Dianne Wiest and James Earl Jones as Hedda Tesman and Judge Brack in the 1981 Yale Repertory Theatre production of Hedda Gabler.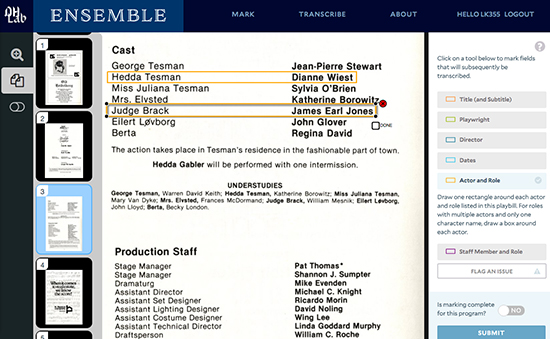 For more information, read the YaleNews story on Ensemble@Yale. To get started marking and transcribing, create a login at http://ensemble.yale.edu.