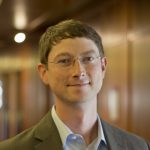 This Forum Report was provided by Mike Nutt, Digital Media Librarian, North Carolina State University Libraries & a 2013 DLF New Professionals Fellow.
My name is Mike Nutt, and I am the digital media librarian in the Digital Library Initiatives (DLI) department at North Carolina State University Libraries. I attended the 2013 DLF Forum as a New Professionals Fellow.
Lately, I have been interested in the role of conversations in Libraries, and so I found it synchronistic that 'conversation' emerged as a theme at the DLF Forum. In his opening keynote, R. David Lankes said the mission of librarians is to improve society through facilitating knowledge creation (created by conversations) in their communities. As a digital library practitioner, I think it is important to remember the impact that our work has on the lives of the people that consume our technologies. We often use the phrase "end user" to describe the people who interact with our digital library systems. While it is important to provide access to information, it was good that Lankes reminded us that such access is positioned at the beginning of the knowledge creation process. Once information is discovered, it can then be shared and explored with others. A conversation is one of the most important outcomes we could hope for.
Lankes also emphasized the importance of 'community.' My experience at the 2013 DLF Forum was most valuable for me because it introduced me to an incredible digital library community. The DLF Forum provided me with a better context for my work by situating it inside this larger DLF community. I now know librarians who are among the earliest innovators in the digital sphere, and I have a better sense of the problems that are driving them to innovate still. I have a better sense of the important questions that are beginning to emerge for other institutions, and what solutions are emerging for those problems. I look forward to getting to know this community better and to becoming an active contributor to our field.