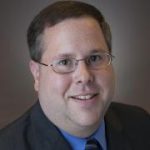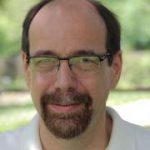 This Community Spotlight was provided by Jon Dunn, Brianna Marshall, and Mark Notess, Indiana University.
Background
The Avalon Media System is an open source system for managing and providing access to large collections of digital audio and video. The freely available system enables libraries and archives to easily curate, distribute and provide online access to their collections for purposes of teaching, learning and research. The project is led by the libraries of Indiana University Bloomington and Northwestern University and is being developed within the context of the Hydra Project community.
Avalon is a follow-on product to the Variations Digital Music Library, an open source system developed at Indiana University and in use there since 1996 in various forms. Variations is also being used at approximately 20 institutions, mainly for streaming music course reserves. In 2010, the Institute of Museum and Library Services (IMLS) gave a $50,000 National Leadership Grant to Indiana University and Northwestern University to plan development of Variations on Video — since re-named the Avalon Media System — from August 2010 through June 2011. A second IMLS National Leadership Grant, for $948,000, is helping to support Avalon's development from October 2011 through September 2014.
The Avalon community is made up of a dozen educational, media, and open-technology institutions, including Opencast Matterhorn, the Hydra Project, the University of Connecticut, Stanford University, the University of Miami, the Rock and Roll Hall of Fame, University of York, New York University, University of Virginia, University of California-Berkeley, and WGBH.

Purpose
Video and audio collections for education are growing in importance and size. In 2010, Indiana University conducted a survey of academic libraries' current practices and future aspirations regarding video-streaming technologies and services. As reported in a presentation at the 2010 EDUCAUSE Conference, the research found that academic libraries are increasingly involved in streaming video content in support of pedagogy and research.
University libraries and archives need a complete and scalable system so they can easily curate their video and audio files and manage workflows for generating video and audio content. Their key requirements include:
Support for robust, standards-based metadata for description and annotation of time-based media.
Support for authentication and authorization.
Ability to accommodate special requirements for digital media asset preservation and long-term archiving.
Integration with preservation repository services.
Leverage other open-source higher education projects such as Hydra and Opencast Matterhorn.
Software
Avalon uses a number of open source tools. In addition to the Hydra framework and Blacklight discovery interface, audio and video processing capabilities are based on technology from the Opencast Matterhorn project, metadata persistence is provided by the Fedora digital repository system, and metadata indexing is provided by Apache Solr.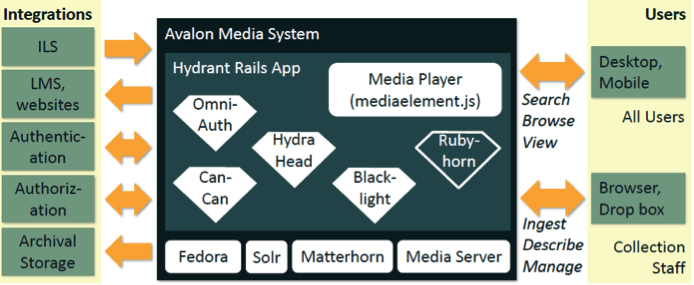 Our current release, 2.0, includes the following features:
New hierarchical permissions model supports a flexible approach to collections-based content management. Collections can have default access controls.
Collections can more easily be shared with defined groups.
New media player is more usable and supports more platforms.
An about page shows the system health and supports automated system monitoring.
Staff can create custom thumbnails for video content by taking a "snapshot" during playback or by specifying a timepoint.
Tools are provided for migration of content and user groups from Avalon 1.0 to 2.0
You can try out or download the software freely on our website.
Release 3.0 is scheduled for spring 2014. It will include course-based access control via the Learning Tools Interoperability (LTI) standard, ability to manage and track master and derivative files, import of pre-transcoded derivatives, persistent URL support, and player embedding.
Use Cases
We are building software that will be able to support the following use cases:
Teaching with Avalon
Teaching faculty can create clips, playlists, and annotations to pinpoint and comment on sections within media items. Structural metadata allows for precise navigation within lengthy media. Robust security and key integrations with course management systems and library systems ease the process of sharing items safely with courses.
Students and Researchers
Students and researchers enjoy the benefits of navigation through clips playlists, annotations and structural metadata. They can view media when they want and where they want through their desktops or mobile devices. Distinct collections and robust metadata make media easier to find.
Collection Managers
For those who are behind the scenes managing the collections, robust access control allows them to share items with groups and individuals more easily and securely. Distinct collections offer content curators the ability to share collections in a sophisticated way.
IT Departments
Avalon supports open connectivity. This will make it easier for future contributors and users to add or remove parts based on their needs. Key integrations include Integrated Library Systems (ILS), Learning Management Systems (LMS), archival storage solutions, authentication, authorization, streaming servers (Red5 and Adobe Media Server), and the Fedora digital repository.
Development Process
The Avalon team uses the Agile development process for the design, development, integration, testing, and delivery of the system. Using the Agile development process allows for a highly flexible and interactive method of receiving timely feedback about Avalon requirements and design. In this process, the team generates and manages requirements through user stories. Sprints refer to work committed to by the team to be complete and demonstrated at the end of two week cycles. Sprints can be altered to accommodate outside meetings with subject matter experts that may provide timely feedback for the project. Recordings of demonstrations of the work on Avalon are posted every 2 weeks for partners and other interested parties to view.
Join the Community
We are working hard to build the Avalon community. Here are some ways to connect with the project: