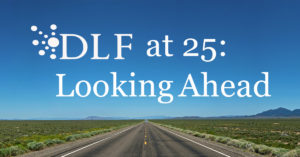 CLIR today released the results of a yearlong program review of the Digital Library Federation (DLF). The review was conducted by Joanne Kossuth, founding director of 1MountainRoad consultancy, to guide planning for DLF's future as we celebrate its 25th anniversary.
Kossuth's review draws on hundreds of responses collected from interviews and written exchanges with CLIR and DLF staff, representatives of member institutions, DLF advisory committee and working group members, and Forum participants. Her findings focus on three areas: community perception of the DLF program, how and where increased collaboration among DLF and other CLIR programs is desirable, and how the program can evolve to best meet current and future needs.
"The DLF Review report is an affirming, encouraging summary of the achievements of the Digital Library Federation over the past 25 years," writes CLIR president Charles Henry in his prologue to the review. "CLIR is privileged to be the home of DLF and takes pride in the professional connection and responsibilities it entails."
CLIR will host a webinar on Wednesday, May 20, from 3–4 pm ET, in which Kossuth will present her findings and join Charles Henry and DLF Advisory Committee chair and CLIR Board member Carol Mandel in answering questions. Registration is required. Because a large audience is anticipated, registrants are strongly encouraged to submit their questions in advance. Questions posed during the live webinar will be answered as time permits. The webinar will be recorded.