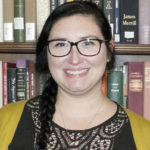 In this special edition of #DLFcontribute, we're working with the Wikimedia Foundation's #1lib1ref (1 librarian, 1 reference) campaign to highlight how librarians use Wikipedia to fill in public knowledge gaps about local and marginalized knowledge. Running from January 15 to February 3, the #1Lib1Ref campaign encourages librarians around the world to all add one citation to Wikipedia.
Kelly Doyle is the Wikipedian in Residence for Gender Equity at West Virginia University Libraries and is a current grantee of the Wikimedia Foundation. She works to raise awareness about the editor and content-based gender gap on Wikipedia and helps connect Wikipedians, faculty, and students. Find her on Wikipedia at User:KellyDoyle or on Twitter @WiR_at_WVU. Ashleigh D. Coren is the Special Collections Librarian for Teaching and Learning at the University of Maryland, College Park. Ms. Coren's research interests include critical pedagogy and the assessment of library residency programs. She has held previous positions at West Virginia University and Emerson College and is a 2018 ALA Emerging Leader.
In 2016, we saw an opportunity to create a collaborative model for outreach within West Virginia University Libraries (where Ashleigh was then a resident librarian), focusing on student groups and organizations of color. Our collaboration highlighted the many ways librarians can leverage their partnerships in various campus units to assist Wikipedians with outreach and curriculum building, and how Wikipedia can be a new way for librarians to engage our students in conversations about power and access. 
Wikipedia literacy and editing helps students understand the building blocks of source development and to be more discerning of content online. Discussions about editor and content gaps on Wikipedia highlight why students need to be critical of content or the absence of information, and the importance of continuing to do research. These discussions empower students to use library resources and create notable content if it doesn't exist. Wikipedia literacy can easily be incorporated into library instruction courses, and we've begun to incorporate this into our courses at WVU Libraries to positive student and instructor feedback. Wikipedia's gender gap is quite stark, with less than 10% of editors identifying as female and less than 18% of biographies on Wikipedia English about women. Wikipedia also has a well documented diversity problem.
We designed two of our discussion and training events as spaces for students of color to learn about the racial and gender dynamics of Wikipedia and to receive service credits as required by the university or their Greek organizations on campus. The events were developed in partnership with the Center for Black Culture and Research, our NAACP student group, and Delta Sigma Theta Sorority, Inc. Ashleigh had connections to the Center and a student in the Deltas and thought they would be interested in sponsoring a Wiki event. This was a great way for Kelly to expand her service learning model and to explore partnerships with librarians and non-academic units on campus. Before the event, Kelly created an event dashboard page (which helps track participation) and Ashleigh assisted with locating redlinked or missing articles.
We wanted to challenge our participants' preconceived notions about the value and legitimacy of Wikipedia, and encourage them to add to the collective knowledge of the African diaspora. Each event was split into three parts: Kelly provided an overview on Wikipedia and the gender and racial gaps on the site, and Ashleigh continued the conversation on Wikipedia's assessment of articles and used the pageview analysis tool to highlight how traffic to pages and content gaps can hurt  public understanding of a topic. We used two examples, TaNehisi Coates vs. Lena Dunham, and the Black Panther Party vs. the Ku Klux Klan, to get our audience to think about intentionality and purpose: How is the information organized in each article? What do editors find "notable" about these subjects? How many people are editing these pages, and how many people are accessing these pages? After the initial discussion, we helped the students create accounts and directed them to relevant databases and periodicals to use as sources. During our first event, Kelly arranged for the founder of AfroCROWD, Alice Backer, to speak to the students about their work and opportunities to volunteer. We found that when students understood the content gaps on Wikipedia, they felt motivated to contribute.
Librarians and students can use their unique skills, along with their knowledge of content gaps, to help Wikipedia in its aim to contain the sum of all human knowledge. Global events like #1Lib1Ref are a great opportunity for librarians to engage with Wikipedia, and especially for academic librarians to engage with their student populations who are undoubtedly consulting Wikipedia on a regular basis. Furthermore, hosting events like #1Lib1Ref can allow librarians to gauge interest at their library for additional Wikipedia events or a Wikipedian in Residence role at their institution. Wikipedia needs librarians to continue to add content and citations, and students need librarians to help them navigate all of the sources they will encounter as they conduct research. Hopefully, partnerships like ours can grow at other libraries; engagement with #1Lib1Ref events provide an easy introduction to editing Wikipedia and possibilities for future partnerships.