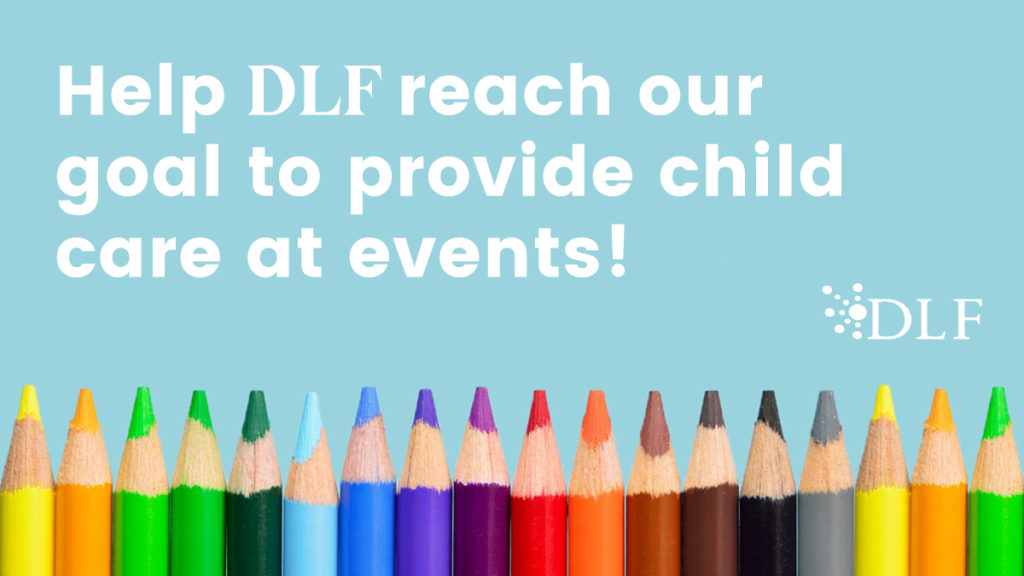 DLF is asking for your help. 
As part of a larger effort to make our annual meetings as welcoming and accessible as possible, for the past three years we have worked to offer quality, subsidized child care services right in the DLF Forum conference hotel. This is important—even game-changing for some parents and caregivers—who would otherwise not be able to attend and contribute their insights and expertise, for the benefit of all.
But the donations that started our Child Care Fund are nearly depleted. We want to continue providing free or low-cost child care at Digital Library Federation events.
Child care responsibilities disproportionately impact women, who face other structural hurdles in libtech fields.
Your donation is meaningful and has a direct impact on the growth and success of the DLF community, by ensuring that caregiver status is not a barrier to participation.
DLF events are break-even at best, so your support is critical.
You can make a difference for your colleagues. Support the DLF Child Care Fund with a one-time or recurring donation.
Please consider DLF for your annual giving and take a moment to DONATE. And even if that's not possible for you, we hope you will help us amplify and share this message.
DLF's parent organization, CLIR, is a 501 (c)(3) non-profit. Your donation may be tax-deductible.
Thank you to our 2020 Child Care Fund donors!
Bestie ($500–$999)
Don't you want to be our bestie?
Sidekick ($250–$499)
Looking for a sidekick—is it you?
Buddy ($100–$249)
Catherine Aster
Friend ($50–$99)
Helene Williams
Pal ($1–$49)
Cheryl Ball
Joan Beaudoin
Benjamin Blake
David Bliss
Janet Carleton
Jacqie Coleman
Elena Colon-Marrero
Michelle Dalmau
Jennifer Dalzin
Elizabeth England
Steven Gentry
Margaret Graham
Ann Hanlon
Gwyn Johns
Daniel Johnson
Kimberly Kennedy
Kara Long
Jonathan Manton
Cathy Miller
Joshua Neds-Fox
John Mark Ockerbloom
Catherine Phan
Nikki Rhodes
Amy Rudersdorf
Amanda Rust
Jennifer Serventi
Debra Shapiro
Robbie Sittel
Jay Sylvestre
Matt Testa
Jennifer Weintraub
Elliot Williams
Stacy Williams